Overview
Molegro Molecular Viewer is a free software application for visualization of molecules and Molegro Virtual Docker results.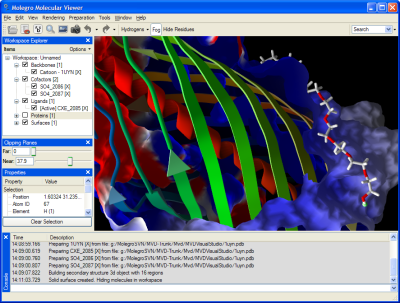 The latest version of MMV is 7.0 (released March 26th, 2019).
Features at a glance
Share and view results from Molegro Virtual Docker docking runs.
Imports and exports most common molecular file formats (PDB, SDF, Mol2).
Imports and exports Molegro Virtual Docker MVDML files.
Built-in raytracer for high-quality images.
Automatic preparation of molecules.
Molecular surface and backbone visualization.
Labels, sequence viewer and biomolecule generator.
Cropping of molecules and clipping planes.
Structural protein alignment.
Support for KNIME workflows.
Available for free for Windows.
Download Molegro Molecular Viewer
In order to download Molegro Molecular Viewer, please use the form below. We will then send you instructions on how to download the software.